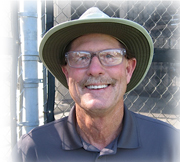 Mark Hirtler
Mark is a Pro-level 1, United States Professional Tennis Association (USPTA) Tennis Teacher. He grew up playing competitive tennis in Orange County, California and has been teaching tennis professionally for the past 25 years. His gifts of communication allow him to work with students of all ages and abilities and to help each and every one achieve their very best.
Mark served as the Director of Tennis and Head pro for the Los Caballeros Racquet and Sports Club from 1984 to 1998 and during that same time operated the Los Caballeros Junior Tennis Academy. He has coached many open level and ranked junior players from Orange County over the years including: Eddie Weiss, Noli and Noel Zosa, Colby Morita, Mark Westmoreland, Kieth Briscoe, Nora Kapche, Stephanie and Renee Uricarriet, Elena Klau, Christina Son, Clifford Yook, Alvin Lo, Brian Chen, Shimpei Suzuki, Chris Nguyen, Tommy Dinh, Tiffany Tran, Casey Bambauer, and many others.
Mark is a past President of the California United States Professional Tennis Association and a former member of the National USPTA Executive Committee.
In 1994 he received the California USPTA Presidential Service Award for his work and commitment to the betterment of tennis teaching in Southern California. He also served on the Southern California Tennis Association Junior Tennis Council.
A dedicated teacher, Mark loves the challenge of working with players who are motivated to improve. His coaching philosophy is "Never give up" and "Strive to be the best that you can be".